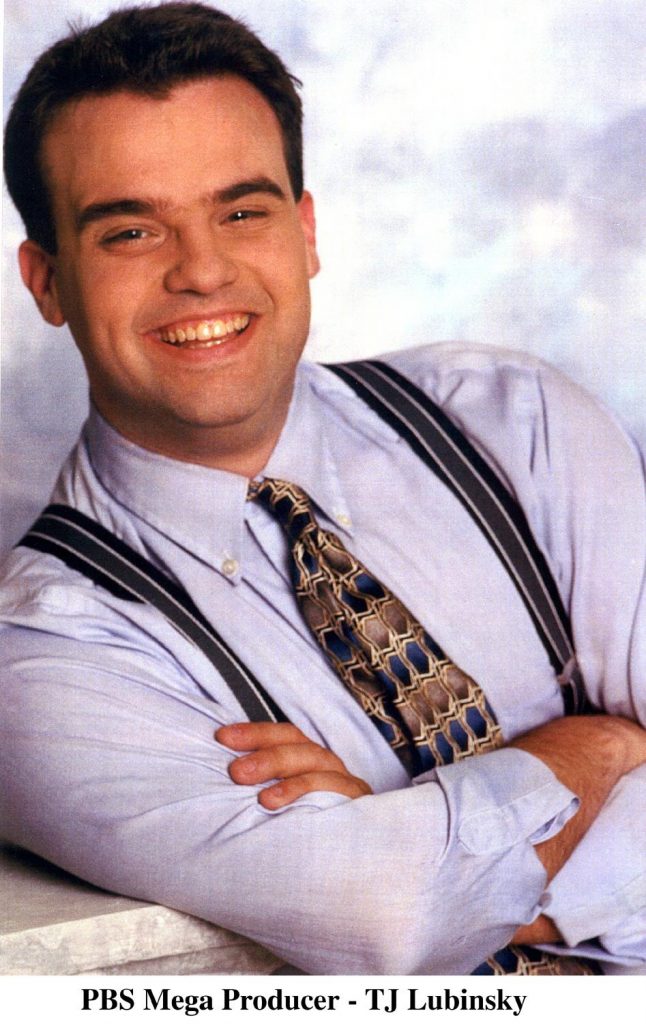 Tweets From the Last DooWop Star
TJ Lubinsky Bio

T.J. LUBINSKY: FOR THE LOVE OF MUSIC
Veteran Producer's 'My Music' Series Has Raised More Than $1 Billion For PBS Stations
For the past 25 years, T.J. Lubinsky's My Music series has helped the 360 PBS member stations raise more than an estimated $1 billion dollars, while simultaneously preserving popular music's rich legacy.
And he's just getting started.
Global Search for Doo Wop Talent Underway
His latest production "The Next Doo Wop Star," is a global talent search to preserve the legendary Doo Wop and acapella music of the 1950s and 60s.
The search will culminate with a March 2018 national PBS special and digital interactive show celebrating the Doo Wop era in American musical history.
Groups can submit video auditions to The Next Doo Wop Star website by November 10, 2017.
Preserving the history of popular music
As creator/executive producer and director of My Music, Lubinsky has filmed more than 800 artists, licensed hundreds of CD/DVD packages to help PBS member stations stay on the air.
Lubinsky's productions reach a national audience of more than 100 million viewers. The shows have included "Doo Wop 50"; "Doo Wop 51"; "Doo Wop Discoveries";"My Music: Rock, Pop and Doo Wop"; "Aretha Franklin Presents: Soul Rewind" and "John Sebastian Presents: Folk Rewind"; "Classical Rewind"; "This Land Is Your Land"; hosted by the Smothers Brothers and Judy Collins"; 70s Soul Superstars" hosted by Patti LaBelle and Isaac Hayes and more.
Among his seminal specials: "'Magic Moments: The Best of 50s Pop"; "Get Down Tonight" The Disco Years," "My Generation: The '60s Experience," "Motown: The Early Years," "The British Beat" and "Country Pop Classics." His productions, which read like a who's who in music history, also have included musical signposts the Animals, Jerry Butler, Patti Page, Jefferson Airplane, the Miracles, Four Tops, Ronnie Spector (Ronettes), Roger McGuinn of The Byrds, Barry McGuire, The Mamas and The Papas, the Drifters, The Trammps, Little Richard, The Five Satins, Johnny Maestro & The Brooklyn Bridge, Bo Diddley and Jerry Lee Lewis and hundreds more.
Musical legends count on Lubinsky
My Music goes deeper than just a trip down memory lane or a passionate music fan's lifelong hobby. "Beyond giving veteran acts the chance to perform on a national forum, the series doubles as living history; the chance to document and preserve legacies that would otherwise be lost or forgotten."
Notes the Queen of Soul herself, Aretha Franklin, "As artists and as fans, we can count on both TJL and PBS to preserve, protect and present the great treasury that is our musical heritage." Adds Ronnie Spector, namesake of the legendary girl group the Ronettes, "I knew T.J. would treat my work with the love and care it deserves. Thanks to him for letting everyone know that rock and roll will never die."
The Ultimate Musical Dream
The love and care that Lubinsky brings to each program comes naturally. He's the third generation of his family in the music business. "Early R&B was always in my family's background," remembers Lubinsky. His father, Herman Lubinsky Jr., would sneak his teenaged son into clubs to check out various R&B acts. There, T.J.'s love affair with R&B and doo wop was cemented.
"It just felt like that's me, where I belong," recalls Lubinsky. And it's all leading to his ultimate dream: compiling a complete video archive chronicling the history of popular music. "It's simply about bringing classic music back to people and sharing it with the world," says Lubinsky. "We're just keeping on keeping on."
Press Releases
VETERAN PBS PRODUCER TJ LUBINSKY PRESENTS NATIONAL TALENT SEARCH FOR "THE NEXT '50s & '60s POP, SOUL AND DOO-WOP STAR"
NEXT DOO WOP STAR TALENT SEARCH PRESS RELEASE 
Articles about TJ Lubinsky
Doo Wop Producer TJ Lubinsky Plays It By Ear, TRIB Live, Pitt, PA
IN PERSON; He May Be Golden, But He's No Oldie, New York Times
Media Photos